LADIES & GENTLEMEN ..  ROCK 'N ROLL
  POW..!     MTV  Lands is South Florida  1981
Where were you when you first found MTV?

Back In 1981, most of us just began to receive cable TV.
Most evey home in South Florida had this Cable Changer in their home.
How many of you Hot-Wired this box to receive premium channels?
The cable channel changer box slid sideways back-n-fourth  and came with a Long extended  12 foot wire that would reach across the room.  Remember?
Many small local Cable Carriers back in 1980s , such as Storer Cable, Jones Intercable, etc,  were first to introduce and supply cable to South Florida.
Think back to 1981 while sitting on your couch, sliding the Cable Channel Changer back-n-fourth landing it on channel  'R'  not knowing what 'R'  was..
Many people in South Florida found channel 'R'  to be some odd cable channel that broadcasted videos of actual bands playing music On Stage..
At first, nobody actually knew what that channel was named,  most people just knew that channel 'R'  played  videos of bands that were heard on the local radio and bands that were Never heard of..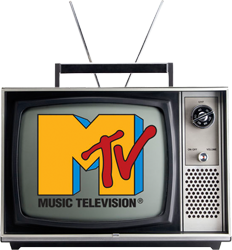 Video Killed the Radio Star by the Buggles was the first video MTV broadcast back in August of 1981.  That was the beginning of something really great.  If you love the music of the 80s, the videos that went along with them were like icing on the cake.  It was all new territory and video directors seized the opportunity with classic 80s excess.  Below are just a sampling of the thousands of fabulous music videos from the 80s.  We've tried to narrow down the 1000s of songs that make the 80s so awesome to a manageable 100 top songs of the 80s.
( Did you have you're MTV Wired for Stereo) ?
 Local Girls  Graham Parker
867-5309/Jenny, Tommy Tutone
99 Luftballoons, Nena
A Million Miles Away, Plimsouls
A Little Respect, Erasure
Addicted To Love, Robert Palmer
Another Part of Me, Michael Jackson
Are We Ourselves, The Fixx
Ask, The Smiths
Bad, Michael Jackson
Beat It, Michael Jackson
Beds Are Burning, Midnight Oil
Billie Jean, Michael Jackson
Bizarre Love Triangle, New Order
Blister in the Sun, Violent Femmes
Blue Monday, New Order
Borderline, Madonna
Brand New Lover, Dead or Alive
Burning Down the House, Talking Heads
 
California Girls, David Lee Roth
Come On Eileen, Dexy's Midnight Runners
Crazy Little Thing Called Love, Queen
Cruel Summer, Bananarama
Dancing With Myself, Billy Idol
Der Kommissar, After The Fire
 
 
Don't You Forget About Me, Simple Minds

Don't You Want Me, The Human League
Down Under, Men At Work
 
The Future's So Bright, I Gotta Wear Shades, Timbuk3
Watch More —
Girls Just Wanna Have Fun, Cyndi Lauper
Here Comes the Rain Again, Eurythmics  
Hit Me With Your Best Shot, Pat Benatar  
Home Sweet Home, Motley Crue
Hot For Teacher, Van Halen  
Hungry Like the Wolf, Duran Duran  
I Love Rock n Roll, Joan Jett
I Melt With You, Modern English
I Ran (So Far Away), Flock of Seagulls
In a Big Country, Big Country
Jack & Diane, John Mellancamp  
Jessie's Girl, Rick Springfield
Jump, Van Halen
Just a Gigolo, David Lee Roth
Kiss, Prince
Like a Prayer, Madonna
Like a Virgin, Madonna
Love Shack, B-52s
Lovesong, The Cure
Lucky Star, Madonna
Luka, Suanne Vega
Maneater, Hall & Oates
Major Tom (Coming Home), Peter Schilling
Mickey, Toni Basil
Money For Nothing, Dire Straits
Need You Tonight, INXS
Obsession, Animotion
Once In A Lifetime, Talking Heads
The One I Love, R.E.M.
One Night in Bangkok. Murray Head
Our House, Madness
Physical, Olivia Newton-John
Playing With The Boys, Kenny Loggins
Pour Some Sugar on Me, Def Leppard
Pretty in Pink, Psychodelic Furs
Pride (In the Name of Love), U2
Puttin' On The Ritz, Taco
Rapture, Blondie
The Reflex, Duran Duran
Relax, Frankie Goes to Hollywood
Rock This Town, Stray Cats
Safety Dance, Men Without Hats
Sex (I'm A . . .), Berlin
She Bop, Cyndi Lauper
(She's) Sexy + 17, Stray Cats
Shout, Tears for Fears
Sledgehammer, Peter Gabriel
Stray Cat Strut, Stray Cats
Sunglasses at Night, Corey Hart
Tainted Love, Soft Cell
Take on Me, a-ha
Talking in Your Sleep, The Romantics
Tempted, Squeeze
Video Killed the Radio Star, the Buggles
Warrior, Scandal
We Are The World, USA For Africa
We Got the Beat, The Go-Gos
We're Not Going Take It, Twisted Sister
West End Girls, Pet Shop Boys
What I Am, Edie Brickell
What You Need, INXS
Whip It, Devo
With or Without You, U2
Words, Missing Persons
You Might Think, The Cars
Your Love, The Outfield