103 SHE FLORIDA RADIO STATION  INTERNET RADIO
Lets talk about the 80s for a moment, Think Back and remember the many events that transpired with Music, Pop Culture, National and Global Events.
If you really look back and invest a quick thought in the beginning of the 80's ..
We were growing up in an era unfolding with many memorable milestones.
Economy Was in Good Condition
Cable TV Was Introduced to Most of South Fla 1980-81
MTV Launched in 81 April 1st / Yet Nobody Knew What That Channel
Actually Was For Like a Year.
Music Made a Huge Change, Punk, New Wave Was Huge,Classic Rock Seemed To Get Left Behind
The Valley Girl Trend Was Popular For Many Years
Low Budget 80's Movies on Cable TV
80's Brat Pack Bunch Getting Their Start in Low Budget Movies
Trending Foods / Potato Skins-Buffalo Wings /Fondue /Fajitas
One of the First Home Computer's was a WANG  lol..
Space Shuttle Tragic Crash In Flight
Berlin Wall Came Down
Drinking & Driving Was Not Really Enforced as it is Today
Miami & South Florida Was Not Infested With Third-World Immigrants
Drinking Age Changed From 18 to 21
TV Shows Went Off Air at Midnite
M.A.S.H. Signs Off
Home Answering Machines Become Popular
Dukes of Hazard & The General Lee Confederate '69 Charger
Did Anyone Ever Find Out Whom Really Shot JR ?

WSHE  FT LAUDERDALE / MIAMI   SHE 103.5 FM
'SHE' The Radio Station certainly was growing in popularity amongst  baby boomers born in the 50s & 60s.
The younger generation audience was moving from AM to FM  during the mid 70s into the 80s, being turned onto 'SHE' and the station's format.
Back then,  small local rock bands and promoters  would send their records directly to the studio,  The DJs  would decide if the album would get Air-Play or Not.
New Wave music was knocking on our station door and the growing pains of learning to accept New Wave music along side of Rock & Roll which as  beginning to become labeled as  'Classic Rock'.
1978  into the 1980s  SHE began to air more and more New Wave Music, Artists like The Cars, Blondie, Talking Heads, Elvis Costello, The B52s, Devo, The Cure,  The Smiths, The Pretenders, The Police, The Psychedelic Furs, Adam and The Ants and lets not forget the  The Go-Gos all female band,  Just to name a handful
New wave is a genre of rock music popular from the late 1970s to the mid-1980s with ties to 1970s punk rock. New wave moved away from smooth blues and rock and roll sounds to create pop music that incorporated electronic and experimental music, mod, and disco. Initially new wave was similar to punk rock, before becoming a distinct genre. It subsequently engendered subgenres and fusions, including synth-pop.
WSHE  aired many of the New Wave bands as posted below,  quite a few New Wave bands were put into High-Rotation in the late 70s early 80s.
Put The SHE Sticker ☟  Back on Your Car Window While They Last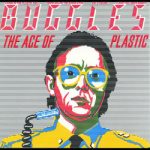 Buggles – The Age of Plastic (1980)
"Video Killed the Radio Star" ushered in a new era in music when it debuted on MTV at 12:01 a.m., Aug. 1, 1981. And while that international hit may be forever associated with a certain time and place, the rest of The Age of Plastic has aged quite well. Buggles were essentially Trevor Horn and Geoffrey Downes, two geeky British musicians who, like Gary Numan, were disciples of bands like Kraftwerk and were dabbling in their own future sounds in the late-'70s. The Age of Plastic's New Wave influence was forged less in British punk and more in prog rock (both Horn and Downes would later join prog institution Yes on their Drama record). It makes this record (and, even more so, the band's second album) stand out more for the musicianship, while never taking itself too serious.